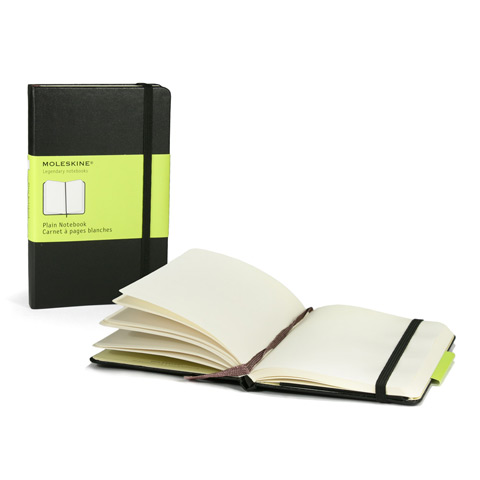 #2 – Pocket sketchbook
This is another one of those items that has stayed with me from my college architecture days. My studio professors always told us to keep a sketchbook on us at all times. They'd say, "You never know when inspiration might strike!" And then they'd tell us these stories about fabulous buildings being born out of crumpled napkin sketches. These days, I use my sketchbook for jotting down things like bus schedules and grocery lists more than I use it to sketch out floor plans. In fact, I have to admit that my iPhone has replaced my sketchbook many times for list-making, but nothing beats paper and pencil when you're trying to sketch out a quick diagram or map.
I'll often use my sketchbook when I'm working on a project, particularly at the craft store. I'm a very visual person, so it helps a lot for me to actually draw out and diagram how much fabric or basswood I might need for a particular project. When I'm a the beginning stages of a design for wedding invitations or any design project, I'll always grab my sketchbook and sketch out a few preliminary ideas first. I'll take whatever sketches look like they have the most promise, and then flesh those out a bit more with a few additional sketches. Finally, I'll either scan in the sketch or work off of the sketch to create a digital version in Illustrator.
My favorite sketchbook to use is the Moleskine Classic Plain Pocket Notebook. These do tend to be a bit pricey, so I try to get them whenever I find them on sale (which isn't very often). Otherwise, I'll just find any small, sturdy, un-ruled notebook and throw that into my purse. I've used ruled and gridded notebooks before (and I know my sister really loves the gridded Claire Fontaine ones), but I feel like more often than not, I'm wanting to sketch out visuals that work best on blank pages.
So whether it's ruled, non-ruled, gridded, pocket-sized, leather, soft-cover, or lime green, there's a notebook out there for everybody!